The Royal D. Suttkus Field Notes Project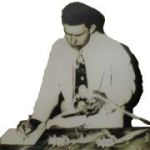 When biologist Royal D. Suttkus joined the Tulane faculty in 1950, the university's fish collection consisted of a just two dry-mounted specimens held over from the early "University Museum". By the time Suttkus retired in 1990, the Tulane Museum of Natural History's fish collection had grown to over 6 million specimens and was recognized as a National Center for Ichthyology Research Resource Collection. The Tulane Fish Collection presently contains 7.4 million specimens and is believed to be the largest collection of post-larval fishes in the world. Suttkus made his last collection on the 6th of August, 2005. Remarkably, Suttkus himself made 10,107 collections while at Tulane, and had a hand in collecting 5,599,795 of the fish specimens in the collection. No other figure in North American Ichthyology has come close to matching Suttkus' total of collected specimens. In fact, Royal Suttkus' contributions of specimens were so important that the collection was renamed the Royal D. Suttkus Fish Collection in October 2000.
The Royal D. Suttkus fish collection is fully computerized and internet accessible. The most essential data - collection date and provenance of each sample - are included in the database. However, Suttkus kept more detailed notes on all of his field collecting, recording other important information, such as time spent collecting, method of capture, air and water temperature, and other water conditions. He recorded these data in log books that he took with him to the field, and later transcribed the data, along with lists of collected species, to printed field data sheets which he stored in binders. It was his intention to donate all of his notes to the RDS Fish Collection. However, these plans were forever put on hold on 29 August 2005, when Hurricane Katrina ravaged Suttkus' beachside home in Ocean Springs, Mississippi. Only a small subset of his log books and two of his binders of transcribed field notes were ever recovered.
Suttkus was usually accompanied in the field by students and/or colleagues, who typically took field notes of their own. The aim of this project is to reconstruct R.D. Suttkus' lost field notes by reaching out to former students and colleagues who collected with him. If you collected with R. D. Suttkus from 1950-2005 and have notes documenting these collections, or if you have notes documenting any other material donated to the R.D. Suttkus Fish Collection, we would love to hear from you.
To view an alphabetical list of all of the surnames of individuals who collected with R. D. Suttkus, please click on this link:

http://www.tubri.org/suttkus/fieldnotes.aspx.

Many thanks in advance for your assistance!